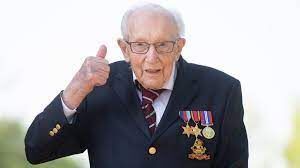 By Carolyn L Rosenblatt, RN, Attorney, Consultant, AgingParents.com
Captain Ton
With daily news of how many new COVID-19 cases we see and reports of how many deaths are happening, it's a nice break to hear of a sweet and uplifting story. At AgingParents.com, we often focus on elders and their families amidst difficulties. It's a scary time and we all need good news for a change. When I caught a piece about Capt. Tom Moore in Great Britain, I had to stop and smile. This amazing man had decided to mark his upcoming 100th birthday by a fundraiser for charity. He set out to do this by making 100 laps around the grounds of his home that he shares with his daughter. That's no small feat and it took quite a while to accomplish. The grounds are 1.6 miles around. He uses a walker. And he did complete those 100 times around, hoping for a modest response in charitable contributions. He got a spectacular response from his British citizens and fans! He raised millions, got a personal congratulatory card from the Queen, tens of thousands of birthday cards from his fellow citizens and an appointment to honorary colonel from the military in which he served.
According to the BBC News, the Chief of the General Staff, Sir Mark, who made the appointment, said Capt. Tom's "mature wisdom, no-nonsense attitude and humor in adversity make him an inspirational role model to generations".
England has a national health system, unlike the U.S. And there is an ongoing need for charitable contributions as well. The BBC News further reports that Capt. Tom said he set about raising the money "for the sake of the nurses and the NHS (National Health Service) we have, because they are doing such a magnificent job". He raised far more than he ever anticipated. The money is being spent in what appears to be very wise ways to support the staff and patients in hospitals. The reporting describes the following uses:
To "help set up wellbeing spaces in hospitals. These include sleep pods, reclining chairs and so-called 'wobble rooms' – areas where staff have a safe space to release emotions after a traumatic experience, such as losing a patient."
Wellbeing packs including everyday items such as food, tea or hand cream, given to staff, which one charity member said was "like a hug in a box".
Purchase of electronic tablets that allow patients who are in isolation in hospitals to have contact with their friends and family.
Mental health support for staff and volunteers involved in dealing with the pandemic.
From my own perspective from ten years of nursing, I applaud the efforts to use funds to support staff, the frontline workers who must face personal risk every day. Losing patients is very hard, and it takes an emotional toll no matter how long one has been in the profession. Imagine seeing hundreds of deaths in one's own hospital and many on one's own shift every day for months. Everyone probably needs a "wobble room". The kind attitude of supplying support to hospital workers with a safe place to rest and express the feelings they must go through sounds excellent.
They mention mental health support, which is something we promote at AgingParents.com for caregivers, whether at a hospital, or simply dealing with an aging parent at home or in a seniors' facility. We're a nurse-attorney, psychologist team. We know your aging parents need your support and you as caregivers need it from others as well. If you are a caregiver, give yourself time to recognize how it feels to do the hardest parts of your job and reach out for support. You can do that by talking with friends on the phone, joining an online caregiver support group, or seeking a mental health provider when the going gets rough. At AgingParents.com, Dr. Davis has over 45 years of experience as a psychologist and he can personally say how much of a difference it can make. There is no need to struggle alone with things like anxiety and depression when help is there so you can get through this time.
Perhaps in small ways in every community, there is someone doing something good for the rest of us during this pandemic. Perhaps you are that person or someone in your family has that giving spirit. For me, the important takeaways from Capt. Tom Moore's story are first, that he did something difficult for a centenarian, in the hope of raising funds for a cause personally important to him. Another is that he. persisted through difficulty. He had experienced a broken hip before all this and it takes determination to keep walking as one recovers, relying on a walker or other device. He showed the world courage. Another is that he demonstrated compassion in recognizing the hard work of nurses and others caring for COVID-19 patients. One can understand the overwhelming support he got. My favorite descriptor of the many he received was from the officer who gave him letter making him an honorary colonel—humor in adversity. Let's have more of that. For any of our readers feeling lost and directionless at this difficult time, we offer a 15 minute no-cost support call at AgingParents.com. May you all stay safe.